European and Global Year for the Prevention of Pain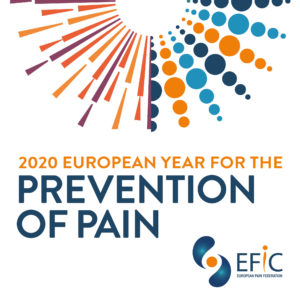 Since 2001, European Pain Federation EFIC® has held a centrally coordinated event named 'The European Week Against Pain' (EWAP). The 1st European Week against Pain was launched in the European Parliament.
From 2012 onwards, the event was known in Europe as the 'European Year Against Pain' (EYAP) with a centrally coordinated annual theme. National Chapters hold activities to gain attention amongst the medical community, the general public, and local media.
The International Association for the Study of Pain (IASP) with the collaboration of the European Pain Federation EFIC® provides briefing packs and factsheets on the designated theme, so that a general message can be unified globally and across Europe. 2020's theme is Prevention of Pain
Previous Years' Themes: 2013-2019
Resources from EFIC and Friends
European resources
EFIC and other European and national organisations best practices on pain prevention and healthy lifestyles promotion
National resources

The EFIC and IASP Portuguese chapter, the Portuguese Pain Society (APED) created a campaign with the help of students to raise awareness of the importance of physical activity to prevent pain. The campaign features famous Portuguese statues that leave their "stiff" position to have a stretch or a jog…even statues would move if they could ..find some of the examples on APED social media post shared to mark 18 October, Pain Awareness Day here and here.
Factsheets
Global and European Year Fact Sheets prepared by top experts on various aspects of pain prevention will be available here. The documents will be free to download.
Task Force Members
Esther Pogatzki-Zhan, PhD, Co-Chair (Germany)
Brona Fullen, PhD, Co-Chair (Ireland)
Fiona Campbell, MD (Canada)
Greg Dussor, PhD (USA)
Fiona Hodson, BSc (Australia)
Zubaidah Jamil Osman, PhD (Malaysia)
Ulrike Kaiser, Dr. med (Germany)
Patricia Lavand'homme, MD (Belgium)
Katherine Martucci, PhD (USA)
Romy Parker, PhD (South Africa)
Gisele Pickering, MD, PhD (France)
Felipe Reis, PhD (Brazil)
Stephan Schug, MD (Australia)
Takahiro Ushida, MD, PHD (Japan)
How to get involved
Volunteer to translate the Global and European Year Factsheets in your local language. Read the article for more information or write to secretary@efic.org to manifest your interest in volunteering.
Tell us about your upcoming Global and European Year activities, are you organising meetings or projects on pain prevention in 2020? Let us know and we will support with international dissemination on our channels!
Follow IASP on LinkedIn, Facebook, and Twitter to learn about new Global Year publications, resources, and activities
Follow EFIC on our channels for European initiatives related to the Year against pain: Facebook, Twitter and LinkedIn
Include the Global Year Logo and the European Year Logo your website, event flyers, announcements, social media posts, and other material (various formats available here)
Factsheet translations
Factsheets translation will be available here – the page will be updated all year long as translations come in!
IASP Global Year Page
For more information on the activities of the 2020 year against pain at global level visit the IASP dedicated page