Grants and Prizes
The Federation offers grants and prizes to reward the pain research community.
The EFIC-Grünenthal-Grant (E-G-G)
The EFIC-Grünenthal-Grant (E-G-G) is a research grant scheme awarded by the European Pain Federation EFIC and generously sponsored by the pharmaceutical company Grünenthal GmbH These biennial grants totaling € 200,000 are supporting young scientists early in their career to carry out innovative clinical pain research in any member country of the European Pain Federation EFIC®. Individual research grants are valued at up to € 40,000 per project for a duration of up to two years.
The EFIC and Pfizer-Lilly Alliance Grant on Education in Pain Associated with Osteoarthritis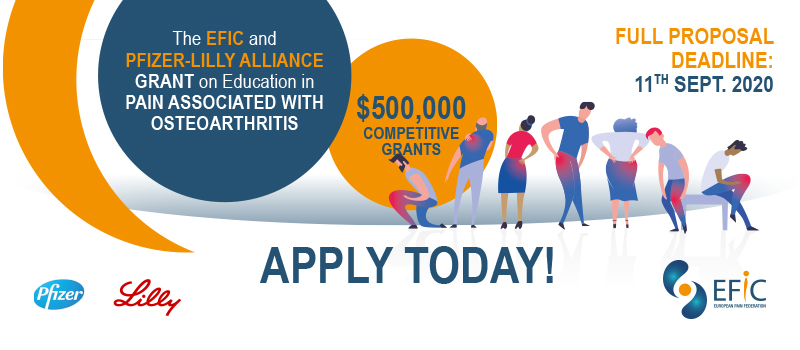 Osteoarthritis (OA) is a long-term chronic disease characterized by the deterioration of cartilage in joints which results in bones rubbing together and creating stiffness, pain, and impaired movement. The disease most commonly affects the joints in the knees, hands, feet, and spine and is relatively common in shoulder and hip joints.
OA is the single most common cause of disability in older adults. An estimated 10% to 15% of all adults aged over 60 have some degree of OA, with prevalence higher among women than men. The prevalence of OA is increasing due to population ageing and an increase in related factors such as obesity.
The European Pain Federation EFIC and the Pfizer-Lilly Alliance are collaborating to offer a new grant opportunity focusing on life-long learning and implementation of education in pain from osteoarthritis. The intention of the project is to encourage an increased understanding of pain associated with osteoarthritis.
The total available budget is $500,000. Applications are requested within the following monetary ranges:
Small-scale projects: budget provided between $40,000 and $80,000
Large-scale projects: budget provided between $80,000 and $150,000
Type of Project:
Successful projects may include (but are not limited to) educational videos, public information campaigns, public policies and information campaigns by local authorities, training modules, e-learning tools, mobile apps, poster campaigns, comic books and illustrations, performance art, and social media campaigns. Multi-disciplinary collaborations are encouraged when appropriate, but all partners must have a relevant role.
Eligibility criteria:
At least one partner within the applicant group should be legally registered within one of the 37 chapters of EFIC.
Only organizations are eligible to receive grants, not individuals or medical practice groups. Applications can come from one organization, or from multiple organizations working in partnership.
Collaborations within institutions (e.g., between departments and/or inter-professional), as well as between different institutions / organizations / associations, are encouraged. Please note all partners must have a relevant role and the requesting organization must have a key role in the project.
The following non-exhaustive list of organizations may apply:
Patient organizations/advocacy groups, medical, nursing, allied health, and/or pharmacy professional schools; healthcare institutions (both large and small); professional associations; government agencies; and other entities with a mission related to healthcare improvement.
Key dates:
Full Proposal Deadline: September 11, 2020
Please note the deadline is 23:59 Eastern Time (New York, GMT -5).
Review of Full Proposals by External Review Panel: October 2020
Anticipated Full Proposal Notification Date: November 2020
Deadline for implementation of successful projects: December 2022
How to apply:
Go to http://www.cybergrants.com/pfizer/QI to sign in or register.
Select the following Competitive Grant Program Name: 2020 IM R – Pain EFIC
Complete all required sections of the online application and upload the completed Full Proposal template.
If you encounter any technical difficulties with the website, please click on "Technical Questions" at the bottom of the page.
IMPORTANT: Be advised applications submitted through the wrong application type and/or submitted after the due date will not be reviewed by the committee.
If you have questions please refer to angelo.carter@pfizer.com or sara.badreh@efic.org with the subject line "Pain Associated with Osteoarthritis – June 2020".
EJP award
The European Journal of Pain (EJP) is the official journal of the European Pain Federation EFIC®. It is a multi-disciplinary, international journal that aims to be a global forum on all aspects of pain research and pain management. The journal publishes clinical and basic science research papers relevant to all aspects of pain and its management, including specialties such as anaesthesia, dentistry, neurology and neurosurgery, orthopaedics, palliative care, pharmacology, physiology, psychiatry, psychology and rehabilitation; socio-economic aspects of pain are also covered.
The EJP award rewards the best articles published in the journal every two years. Winners are chosen by the Editorial Board and the Research Committee of EFIC.
There are two categories of award:
Basis/Translational Research
Clinical Research
Winners are provided with 2500 euros each, as well as registration and costs for the EFIC congress
We encourage you to publish your paper in the EJP and to have the chance to win the award.